Herald and News Publisher and Klamath Publishing President Heidi Wright will be leaving her position at the newspaper in early November.
The announcement was made to the staff Thursday afternoon by Wright, who has been at the helm of the Klamath Falls paper since 2004.
Mark Dobie, the advertising director for the Skagit Valley Herald in Mount Vernon, Wash., has been named to succeed Wright and will start on Nov. 3.
Both papers are owned by the Pioneer News Group, which operates 23 daily and weekly papers across the Northwest in Washington, Idaho, Montana, Utah and Oregon.
Pioneer President and CEO Mike Gugliotto announced the change to the chain's newspapers on Thursday, as well.
Among her accomplishments, Wright, 58, built a new, modern and environmentally "green" building for the newspaper and its press and distribution facility at 2701 Foothills Blvd., moving it from its downtown location in 2007.
She's been a driving force behind Klamath Promise — a community initiative to raise the graduation rates of high school seniors; Healthy Klamath — a community effort to improve the overall health of Basin residents; and brought the newspaper's online, mobile and tablet presence into the 21st century, recording some of the highest digital growth numbers in the company.
Wright also converted the paper from an afternoon publication to a morning newspaper and curtailed the Monday morning paper to conserve costs.
She sits on the Oregon Tech President's Advisory Council; is a board member for the Sky Lakes Medical Center Foundation and is on the Oregon Community Foundation Leadership Council.
"It's been a privilege to be a part of the Klamath Falls community for the past decade. Nowhere are there more caring and passionate people than in the Basin," she said. She and her husband, Richard Schuurman, plan to stay in Klamath Falls for the time being.
Dobie, 49, is an Akron, Ohio, native. He is the director of advertising and marketing for Skagit Publishing. He also serves on the Skagit Valley Parks Board. He's a former publisher for the Sawyer County Record, in Hayward, Wis., and also past president of the Hayward Community School District, Board of Education.
Dobie was a founding member of two early Internet infrastructure start-ups: NetStream and Fiberlink. Both companies were involved in transforming connections to the Internet from slow speed dial-up to high speed access.
He and his wife, Karin, have a son, Spencer, 17, and two daughters, Anna, 14, and Katie, 10.
"My family and I look forward to being a part of the Klamath Falls community. I would like to thank Heidi for her years of service to Pioneer and I hope meet her standard for community involvement in the Basin," he said.
"Mark's skills and experience in Pioneer News Group, as ad director for our sister property in Mount Vernon, will no doubt prove invaluable as he takes on his new role here at the Herald and News," Wright said. "And I look forward to introducing Mark to the community during this transition. He's very fortunate, too, in that he's inheriting a top-notch staff."
For Klamath Falls, the future looks brighter, Wright said.
"I believe the recent announcement of Sportsman's Warehouse coming to town and the opening of Beall's department store next month bodes well for Klamath Falls and the newspaper."
Klamath Publishing LLC consists of The Herald and News, a 14,000 regional daily newspaper serving Klamath, Lake and Modoc counties in Southern Oregon and Northern California; the Nickel, a 17,000 circulation weekly shopper; Lake County Examiner, a 2,000 weekly newspaper; and affiliated websites and commercial print operations.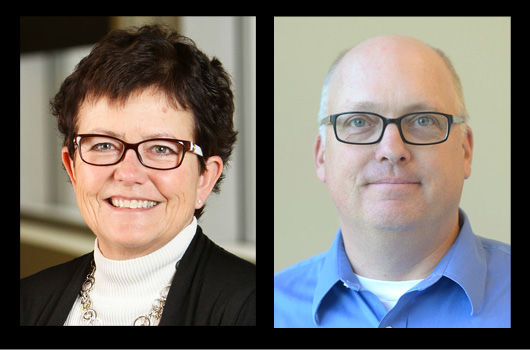 Heidi Wright, left, is leaving the Herald and News. Mark Dobie, right, ad director for the Skagit Valley Herald in Mount Vernon, Wash., will join the newspaper Nov. 3.